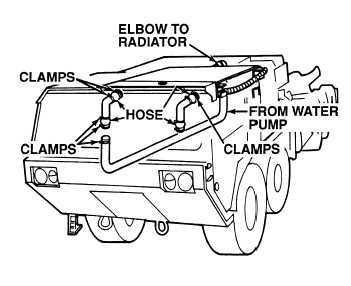 TM 9-2320-364-20-2
2-1073
(1)   Using hose diagram (Para 6-8), check
coolant hoses for leaks, cracks, and
bulging.
(2)   Check for loose or damaged clamps.
(3)   Look for wet spots, drips, and stains
that indicate where coolant is leaking.
(a)   If you see cracked hoses or loose,
damaged clamps, tighten or
replace clamps or replace hoses
(Para 6-8).
(b)   If no leaks or damage is observed,
hoses and clamps are OK.
HOSE INSPECTION
Allow engine to cool before performing troubleshooting maintenance.  If necessary use insulated pads
and gloves.  Hot engine components will burn and cause injury to personnel.
Pressure loss without external leaks indicates
internal coolant leaks.
NOTE