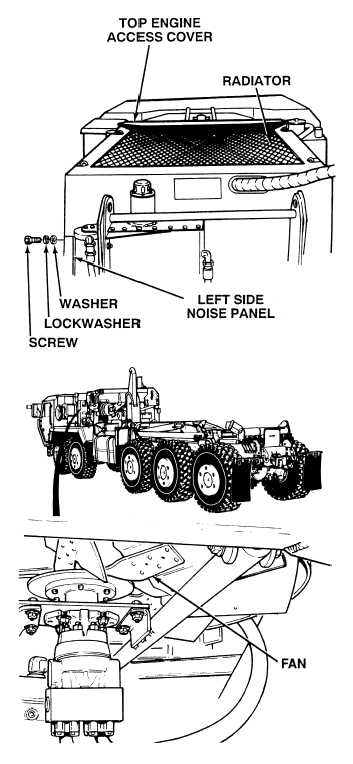 TM 9-2320-364-20-2
2-1075
(1)   Open top engine access cover.
(2)   Check if radiator is covered with dirt,
mud or other debris.
(3)   Remove 8 screws, lockwashers,
washers and left side noise panel.  
Discard lockwashers.
(4)   While assistant moves light under
radiator, check radiator fins for
plugging.
(a)   If dirt or debris is present, clean
radiator and perform Step (5)
below.
(b)   If dirt or debris is not present, go
to Step (5) below.
(5)   Close top engine access cover.
VISUAL INSPECTION
Allow engine to cool before performing troubleshooting maintenance.  If necessary use insulated pads
and gloves.  Hot engine components will burn and cause injury to personnel.
Do not place any part of body in area of fan operation.  Failure to do so will result in injury or death
to personnel.
(1)   Start engine (TM 9-2320-364-10).
(2)   Observe cooling fan operation.
(a)   If fan is not operating, fan circuit is
faulty.  Turn OFF ENGINE switch
and refer to Hydraulic
Troubleshooting (Para 2-31,
Fault 6).
(b)   If fan is operating, turn OFF
ENGINE switch and go to Step 4
of this Fault.
FAN TEST