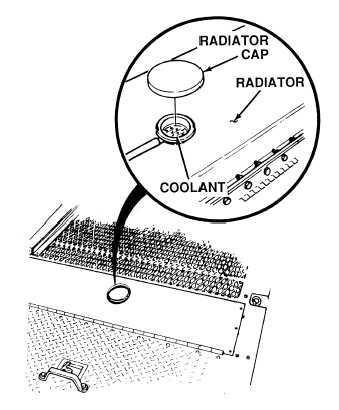 TM 9-2320-364-20-2
2-1091
(1)   Push down on radiator cap and slowly
turn to left to relieve pressure from
radiator.
(2)   Start engine (TM 9-2320-364-10).
(3)   Inspect flow of coolant in radiator.
(a)   If coolant does flow through
radiator, turn OFF ENGINE switch
and replace thermostat(s)
(Para 6-7) and perform Steps (5)
and (6) below.
(b)   If coolant does not flow through
radiator, thermostat(s) is OK.
(4)   Turn OFF ENGINE switch.
(5)   Install radiator cap.
(6)   Install right side noise panel
(Para 17-26).
VISUAL INSPECTION
Do not remove the radiator cap when the engine is hot; steam and hot coolant can escape and burn
personnel.
Use a clean, thick waste cloth or like material to remove the cap.  Avoid using gloves.  If hot water
soaks through gloves, personnel could be burned.