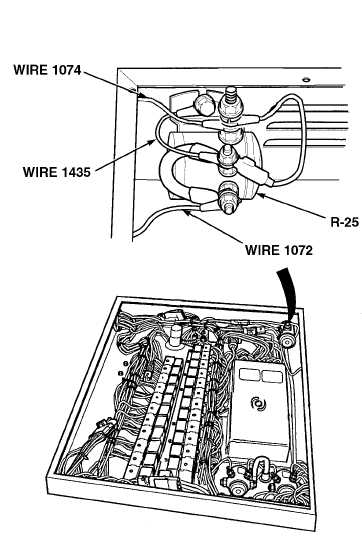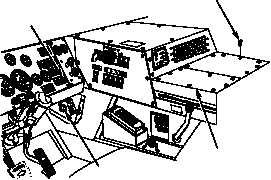 TM 9-2320-364-20-2
2-1177
(1)   Set multimeter select switch to OHMS.
(2)   Is there continuity on wire 1435 between
magnetic switch R-25 and a known
good ground?
(a)   If there is no continuity,
repair wire 1435 (Para 7-101 and
schematic Fig 2-24).
(b)   If there is continuity, wire 1435
is OK, replace relay R25
(Para 7-93).
(3)   Install two ECB covers and 15 screws.
CONTINUITY TEST
Remove all jewelry such as rings, dog tags,
circuits, a direct short may result.  Damage
Circuit breakers CB5, CB6, CB12, CB20,
always electrically hot and can cause severe
the electrical circuit board cover.
(1)   Start engine (TM 9-2320-364-10).
(2)   Turn on windshield wipers and
observe gages.
(a)   If windshield wipers or gages
do not operate, fault not
corrected.  Turn OFF ENGINE
switch and notify DS
Maintenance.
(b)   If windshield wipers and gages
operate, fault has been corrected.
(3)   Turn OFF ENGINE switch.
VERIFY REPAIR
STEERING WHEEL REMOVED
FOR CLARITY
ENGINE SWITCH
ECB COVERS
SCREWS
WINDSHIELD
WIPER SWITCH