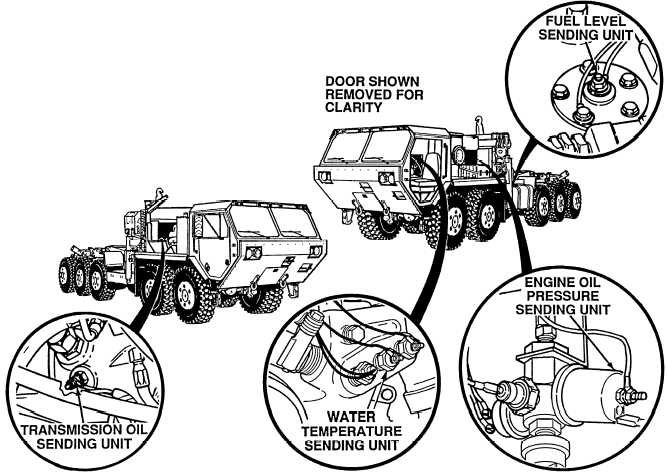 TM 9-2320-364-20-2
2-1183
(1)   Disconnect sensor wire from suspect
sending unit (Table 2-39).
(2)   Ground sending wire to a known good
ground.
(3)   Set multimeter select switch to ohms.
(4)   Is there continuity between terminal S
of faulty gage and a known good
ground?
(a)   If there is no continuity, repair
sensor wire (see schematic
Fig 2-26).
(b)   If there is continuity, sensor wire
is OK.
CONTINUITY TEST
Remove all jewelry such as rings, dog tags, bracelets, etc.  If jewelry or tools contact positive electrical
circuits, a direct short may result.  Damage to equipment, injury or death to personnel may occur.
Table 2-39. Gage/Sending Units Test Points
Gage
Nomenclature
Sensor
Terminal
Sensor
Wire
Sending Unit
Nomenclature
12vdc meter
Fuel Level
Oil Pressure
Water
Temperature
Transmission Oil
Temperature
S
S
S
S
S
1276
1318
1113
1320
1149
None
Fuel level
Engine oil pressure
Water temperature
Transmission Oil
Temperature