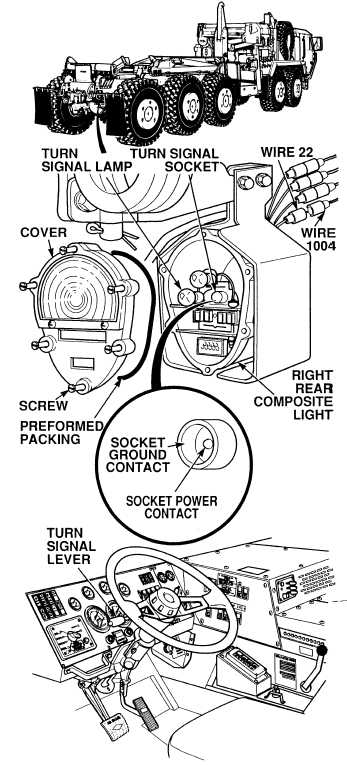 TM 9-2320-364-20-2
2-1277
(1)   Disconnect wire 1004 from right turn
signal lead wire 22.
(2)   Set multimeter select switch to ohms.
(3)   Is there continuity between socket
power contact and wire 22?
(a)   If there is no continuity, replace
composite light (Para 7-47).
(b)   If there is continuity and fault not
corrected, perform Steps (4)
through (6) below and go to Step
5 of this Fault.
(4)   Install lamp.
(5)   Install preformed packing and
composite light cover and tighten six
screws.
(6)   Connect wire 1004 to lead wire 22.
CONTINUITY TEST
10 to 14 vdc are always present at terminals E and F of connector MC7.
Remove all jewelry such as rings, dog tags, bracelets, etc.  If jewelry or tools contact positive electrical
circuits, a direct short may result.  Damage to equipment, injury or death to personnel may occur.