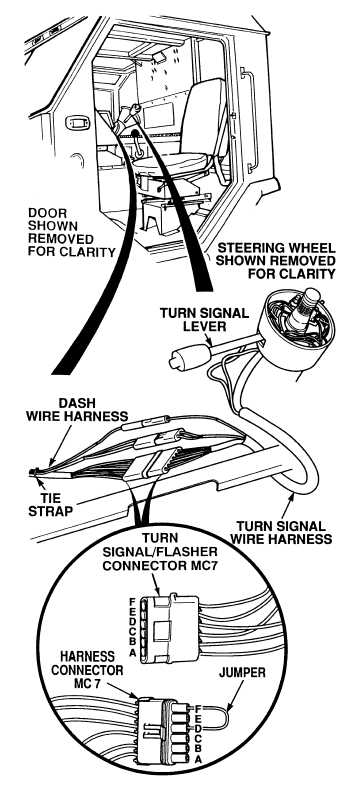 TM 9-2320-364-20-2
2-1289
(1)   Remove cable tie.
(2)   Disconnect turn signal/flasher
connector MC7.
(3)   Connect jumperwire between
terminals D and F of connector MC7.
(a)   If left rear turn signal does not
operate, repair wire 1003 (see
schematic Fig 2-32) or notify DS
Maintenance.
(b)   If left turn signal operates,
replace turn signal/flasher
switch (Para 7-35).
(4)   Remove jumperwire.
(5)   Connect turn signal/flasher connector
to harness connector MC7.
(6)   Install cable tie.
OPERATIONAL TEST
10 to 14 vdc are always present at terminals E and F of connector MC7.
Remove all jewelry such as rings, dog tags, bracelets, etc.  If jewelry or tools contact positive electrical
circuits, a direct short may result.  Damage to equipment, injury or death to personnel may occur.