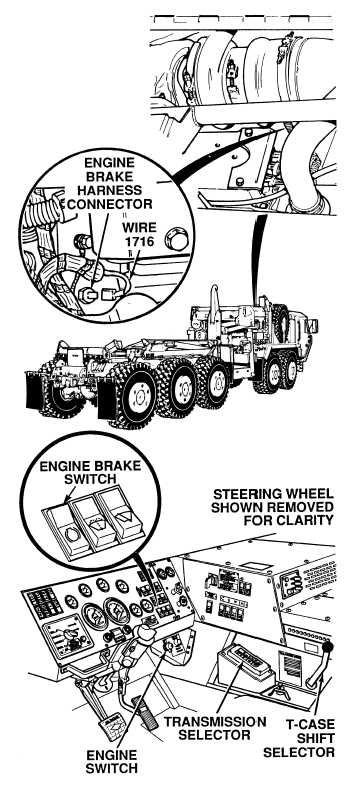 TM 9-2320-364-20-2
2-1453
(1)   Disconnect wire 1716 from engine
brake harness connector.
(2)   Set multimeter select switch to
volts dc.
(3)   Connect positive (+) multimeter
lead to harness connector end
wire 1716.
(4)   Connect negative (–) multimeter
lead to a known good ground.
(5)   Start engine (TM 9-2320-364-10).
(6)   Shift transfer case to N (Neutral).
(7)   Shift transmission to D (Drive).
(8)   Set engine brake switch to
low position.
(9)   While assistant applies throttle
control for ten seconds at 2000 rpm
and quickly releases throttle control,
observe multimeter.
(a)
If 10 to 14 vdc are not present,
perform Steps (10) and (11) and
go to Step 3 of this Fault.
(b)
If 10 to 14 vdc are present,
wire 1716 is OK.
(10)   Turn OFF ENGINE switch.
(11)   Connect wire 1716 to engine brake
harness connector.
VOLTAGE TEST
Remove all jewelry such as rings, dog tags, bracelets, etc.  If jewelry or tools contact positive electrical
circuits, a direct short may result.  Damage to equipment, injury or death to personnel may occur.
Allow engine to cool before performing troubleshooting maintenance.  If necessary use insulated pads
and gloves.  Hot engine components will burn and cause injury to personnel.
Connector is removed by gently prying on
tab and pulling apart connector.
NOTE