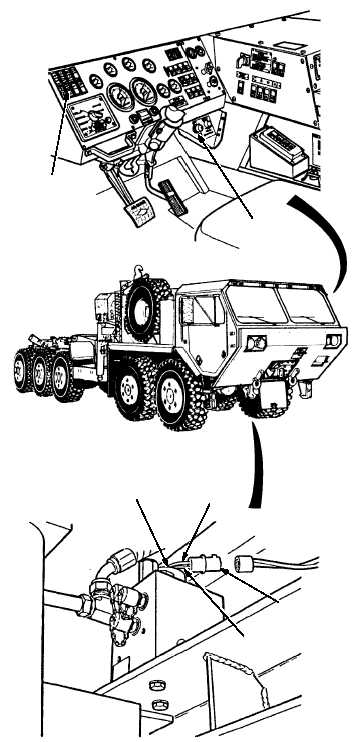 TM 9-2320-364-20-2
2-1525
Remove all jewelry such as rings, dog tags, bracelets, etc.  If jewelry or tools contact positive electrical
circuits, a direct short may result.  Damage to equipment, injury or death to personnel may occur.
(1)   Set multimeter select switch to ohms.
(2)   Start engine (TM 9-2320-364-10).
(3)   Is there continuity between wires
1176 and 1435 at MC113 connector
of emergency steering switch?
(a)   If there is continuity, turn engine off
and replace emergency steering
switch (Para 7-105).
(b)   If there is no continuity, emergency
steering switch is OK.
(4)   Turn OFF ENGINE switch.
CONTINUITY TEST
STEERING WHEEL
SHOWN REMOVED
FOR CLARITY
EMERG
STEER
ENGINE
SWITCH
EMERGENCY
STEERING SWTICH
WIRE
1435
MC113
WIRE 1176