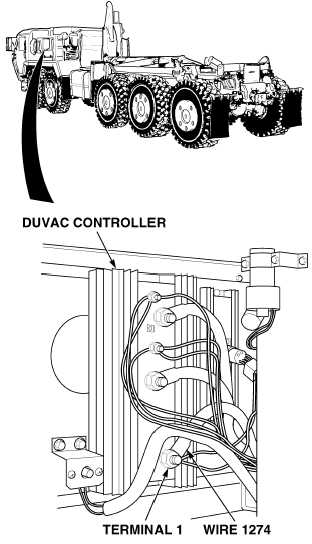 TM 9-2320-364-20-2
2-1615
(1)   Set multimeter select switch to
volts dc.
(2)   Connect positive (+) multimeter lead to
wire 1274 on DUVAC controller
terminal 1.
(3)   Connect negative (–) multimeter lead
to known good ground.
(a)   If 10-14 vdc are not present, repair
wire 1274 (see schematic
Fig 2-39) or notify DS
Maintenance.
(b)   If 10-14 vdc are present, wire
1274 is OK.
VOLTAGE TEST
Remove all jewelry such as rings, dog tags, bracelets, etc.  If jewelry or tools contact positive electrical
circuits, a direct short may result.  Damage to equipment, injury or death to personnel may occur.
NOTE
Wire 1274 splices into wire 1566 which goes to
the positive terminal of the A batteries.  If repair
of wire is required, it could be either the 1274 or
1566 wire.