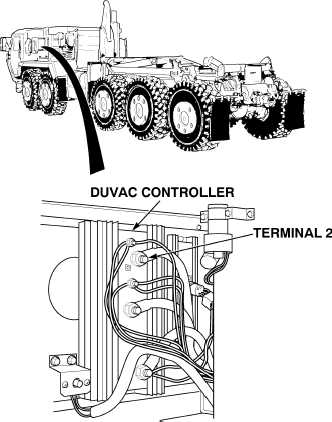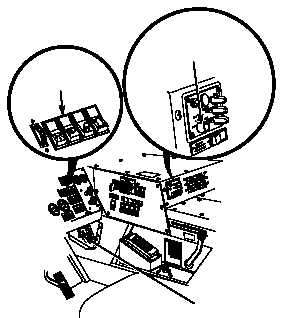 TM 9-2320-364-20-2
2-1635
(1)   Connect positive (+) multimeter lead
to terminal 2 on DUVAC controller.
(2)   Connect negative (–) multimeter lead
to a known good ground.
(3)   Start engine and turn on headlights
and heater. (TM 9-2320-364-10)
(a)   If 26-28 vdc are not present, shut
off heater, headlights and
engine and go to Step 5 of
this fault.
(b)   If 26-28 vdc are present, DUVAC
controller is OK. Shut off heater,
headlights and engine.
VOLTAGE TEST
Remove all jewelry such as rings, dog tags, bracelets, etc.  If jewelry or tools contact positive electrical
circuits, a direct short may result.  Damage to equipment, injury or death to personnel may occur.
NOTE
DUVAC controller resets to the 24 vdc charge
mode approximately every 55 seconds.  Take
the voltage reading for at least two minutes to
ensure voltage reading is taken during the 24 vdc
charge mode.  The charging voltage reading
may only last for a few seconds because the
DUVAC controller will automatically switch to
the 12 vdc charge mode when the 24 vdc system
is fully charged.
HEADLIGHT
SWITCH
FAN
CONTROL
SWITCH
ENGINE
SWITCH