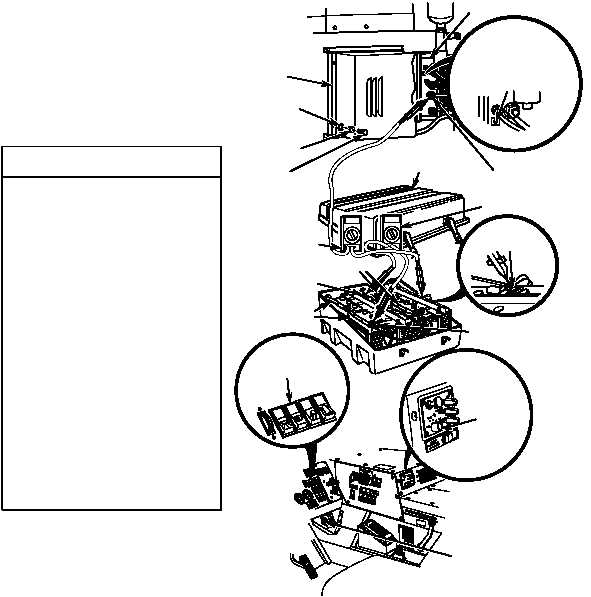 TM 9-2320-364-20-2
2-1645
DUVAC
COVER
WASHER
LOCK–
WASHER
SCREW
TERMINAL A
DUVAC
CONTROLLER
NEG (–)
TERMINAL
MULTIMETER
TWO
MULTIMETER
ONE
BATTERY
BOX

COVER
POS. (+)
TERMINAL
"A" GROUP
"B" GROUP
NEG. (–)
TERMINAL
HEADLIGHT
SWITCH
ENGINE
SWITCH
FAN
CONTROL
SWITCH
POTENTIOMETER
ADJUSTING
SCREW
(1)   Remove four screws, lockwashers,
washers and DUVAC cover.  Discard
lockwashers.
(2)   Remove battery box cover and connect
multimeter one positive (+) lead
to positive (+) terminal of group
"B" batteries and
multimeter one negative (–) lead
to negative (–) terminal on group
"B" batteries.
(3)   Connect multimeter two positive (+)
lead to "A" terminal of DUVAC
controller and multimeter two negative
(–) lead to negative (–) terminal of
group "A" batteries.
(4)   Start engine and turn on head lights
and heater (TM 9-2320-364-10).
(5)   Attempt to adjust DUVAC controller
until voltmeter one reads 14.3-14.6
vdc.
(a)   If 14.3-14.6 vdc cannot be obtained,
turn off heater, headlights and
engine switch and replace DUVAC
controller.  (Para 7-9)
(b)   If 14.3-14.6 vdc can be obtained,
fault corrected. Turn off heater,
headlights and engine switch.
VOLTAGE TEST
Remove all jewelry such as rings, dog tags, bracelets, etc.  If jewelry or tools contact positive electrical
circuits, a direct short may result.  Damage to equipment, injury or death to personnel may occur.
Use caution when turning adjusting screw of potentiometer.  Turning adjusting screw with too much force
may damage potentiometer.
DUVAC controller resets to the 24vdc
charge mode approximately every 55
seconds.  Make sure multimeter two
reads 26-30 vdc indicating the system
is in the 24 vdc charge mode while
reading on multimeter one is taken.
Charging voltage is adjusted by turning
adjusting screw on potentiometer on
DUVAC controller.  Turning to the right
increases voltage.  Turning to the left
decreases voltage.
NOTE