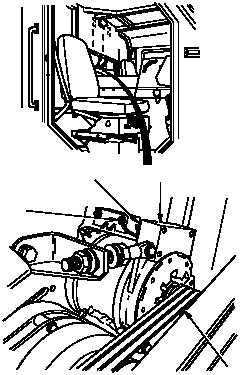 TM 9-2320-364-20-2
2-1655
(1)   Position jumperwire on 24 volt
terminal of alternator and on energize
terminal of voltage regulator.
(2)   Hold a steel screwdriver or wrench
next to alternator pulley.
(a)   If steel tool is attracted, disconnect
jumperwire to release steel
tool and go to Step 5 of this Fault.
(b)   If steel tool is not attracted, fault
may be with alternator or
voltage regulator.  Disconnect
jumperwire and go to Step 6 of
this Fault.
VISUAL INSPECTION
Remove all jewelry such as rings, dog tags, bracelets, etc.  If jewelry or tools contact positive electrical circuits,
a direct short may result.  Damage to equipment, injury or death to personnel may occur.
NOTE
Make a jumperwire 12 inches long from 14 AWG
wire with alligator clips at each end.
DOOR
SHOWN
REMOVED
FOR CLAIRTY
ALTERNATOR
24 VOLT TERMINAL
ENERGIZE
TERMINAL
ALTERNATOR
PULLEY