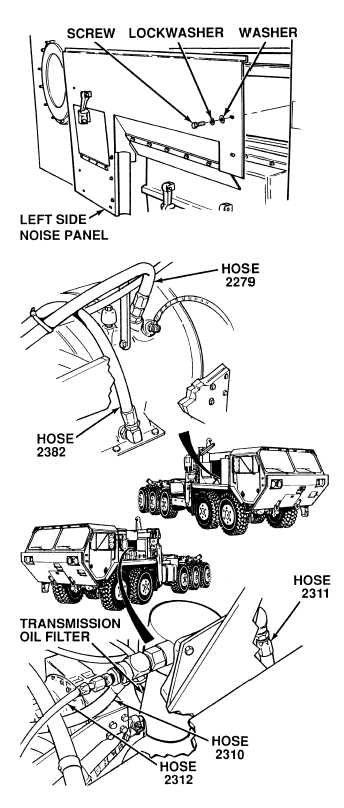 TM 9-2320-364-20-2
2-1685
(1)   Remove eight screws, lockwashers,
washers and left side noise
panel.  Discard lockwashers.
(2)   Check transmission oil hoses 2279,
2382, 2312, 2311 and 2310 for
damage, crimps or leaks.
(a)   If hoses are damaged, crimped or
leaking, tighten fittings or replace
hoses (Para 3-10).
(b)   If there are no leaks, crimps or
damage, hoses and fittings
are OK.
VISUAL INSPECTION
Allow engine to cool before performing troubleshooting maintenance.  If necessary use insulated pads
and gloves.  Hot engine components will burn and cause injury to personnel.
(1)   Check transmission oil filter for leaks
and damage.
(a)   If oil filter is leaking or damaged,
tighten or replace filter (Para 8-4).
(b)   If there are no leaks or damage,
oil filter is OK.
(2)   Install left side noise panel and eight
washers, lockwashers and screws.
(3)   Install right side noise panel
(Para 17-26).
VISUAL INSPECTION