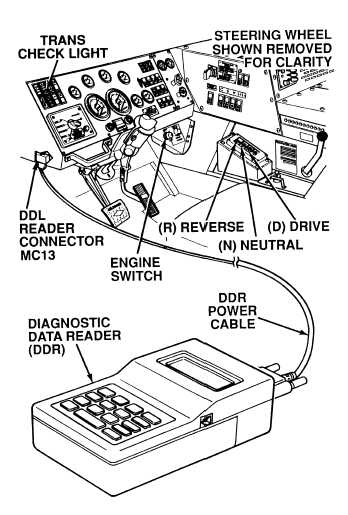 TM 9-2320-364-20-2
2-869
(1)   Connect DDR cable to DDL
connector MC13.
(2)   Start engine (TM 9-2320-364-10).
(3)   Select D (Drive), drive truck and then
select N (Neutral) on shift selector and
observe DDR.
(a)   If codes do not appear, fault has
been corrected.  Perform Steps (4)
through (6) below.
(b)   If code(s) appear, perform
Steps (4) through (6) below and go
to Fault Index (Table 2-26).
(4)   Turn OFF ENGINE switch.
(5)   Disconnect DDR cable from DDL
connector MC13.
(6)   Install left rear skirt on underside of
fender (Para 17-34).
VERIFY REPAIR