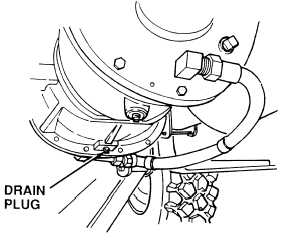 TM 9-2320-364-20-2
2-1709
Adhesives, solvents, and sealing
compounds can burn easily, can give off
harmful vapors, and are harmful to skin
and clothing.  To avoid injury or death,
keep away from open fire and use in a
well-ventilated area.  If adhesive, solvent,
or sealing compound gets on skin or
clothing, wash immediately with soap and
water.
(1)   Place clean drain pan under transfer
case drain plug.
(2)   Remove drain plug and allow
approximately 1 qt (0.9 L) to drain
into drain pan (Para 9-2).
(3)   Apply thread sealing compound to
pipe plug and install in transfer case.
(4)   Inspect oil for contamination.
(a)   If oil is good, add it back into
transfer case.
(b)   If oil is contaminated, drain and
fill transfer case (Para 9-2).
VISUAL INSPECTION