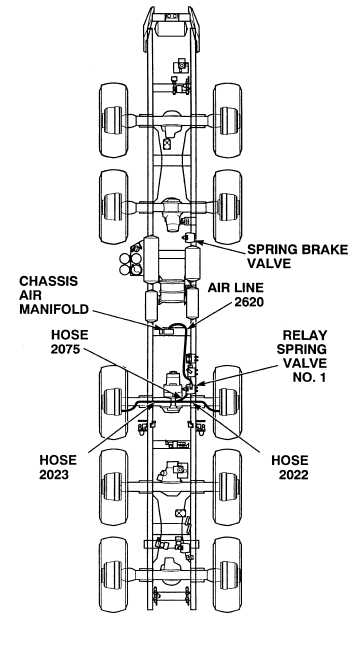 TM 9-2320-364-20-2
2-1753
(1)   Start engine and build air pressure
to 125

±

4psi (861

±

28 kPa)
(TM 9-2320-364-10).
(2)   Turn OFF ENGINE switch.
(3)   Release PARKING BRAKE.
(4)   Check fittings and air lines 2022,
2023, 2620 and 2075 for crimping
and/or leaks (see schematic Fig 2-45).
(a)   If there are crimps or leaks,
replace air lines and/or
tighten/replace fittings
(Para 12-36).
(b)   If there are no crimps or leaks,
air lines and fittings are OK.
VISUAL/AUDIBLE INSPECTION
Wear safety goggles when performing leakage tests on valves.  Failure to do so may result in serious eye injury
due to high pressure air.
Truck must be on level ground and wheels must be chocked before parking brake is released.  Otherwise, truck
may roll and cause injury to personnel.