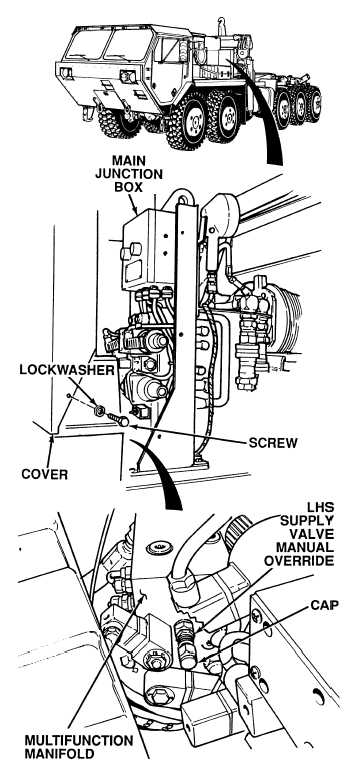 TM 9-2320-364-20-3
2-2883
(1)   Remove six screws, lockwashers and
LHS control box cover.  Discard
lockwashers.
(2)   Remove cap from LHS supply
override needle valve.
(3)   Using hex key, check position of
override valve.  Override valve is
closed if turned all the way in against
stop.
(a)   If override is not closed, close
override by turning screw in and
perform Steps (4) and (5) below.
(b)   If override is closed, perform
Step (4) and (5) below.
(4)   Install cap on manual override.
(5)   Install LHS control box cover with six
screws and lockwashers.
VISUAL INSPECTION
Remove all jewelry such as rings, dog tags, bracelets, etc.  If jewelry or tools contact positive electrical
circuits, a direct short may result.  Damage to equipment, injury or death to personnel may occur.
(1)   Start engine (TM 9-2220-364-10).
(2)   Operate SRW.
(a)   If SRW does not operate, fault not
corrected, turn OFF ENGINE
switch and notify DS
Maintenance.
(b)   If SRW operates normally, fault
has been corrected.
(3)   Turn OFF ENGINE switch.
VERIFY REPAIR