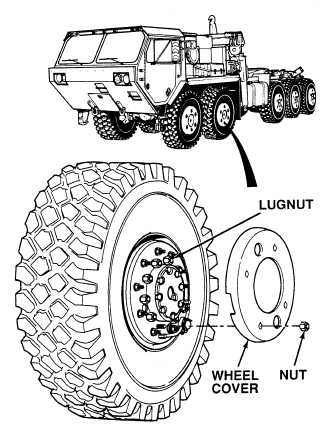 TM 9-2320-364-20-3
2-2955
(1)   Remove four locknuts and wheel
cover from tire assembly
(TM 9-2320-364-10).
(2)   Check if any lug nuts are loose,
missing, or damaged.
(a)   If lug nuts are loose or missing,
tighten and/or replace lug nuts
and perform Step (3) below.
(b)   If lug nuts are OK, perform Step
(3) below and go to Step 3 of this
Fault.
(3)   Install wheel cover and four locknuts.
VISUAL INSPECTION
NOTE
All wheels on truck are the same.  Axle No. 2
wheel shown.