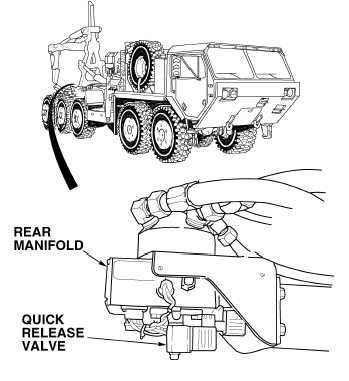 TM 9-2320-364-20-3
2-2009
(1)   Remove quick release valve from rear
manifold (Para 13-10).
(2)   Inspect valve assembly for metal
shavings or dirt between the diaphragm
and valve seat, or for a broken spring,
damaged diaphragm, sticking, or any
other physical damage.
(a)   If quick release valve is damaged,
repair or replace quick release valve
(Para 13-10) and perform Steps (3)
and (4) below.
(b)   If valve is not damaged, Fault is not
corrected, notify supervisor.
(3)   Install rear manifold cover (Para 13-9).
(4)   Put LHS in transit position
(TM 9-2320-364-10).
VISUAL INSPECTION