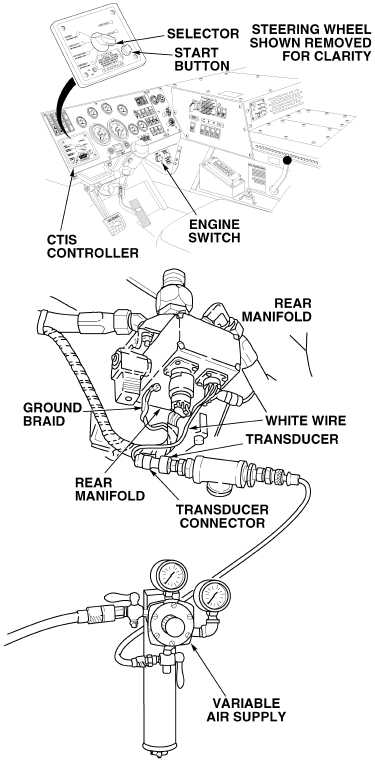 TM 9-2320-364-20-3
2-2037
Table 2-51.  CTIS Volts Versus Pressure
(1)   Insert positive (+) multimeter lead
with long probe installed, at white wire
in transducer connector.
(2)   Connect negative (–) multimeter lead
to ground braid on front manifold.
(3)   While assistant turns ON ENGINE
switch and push CTIS START but-
ton, observe voltage reading at each
pressure specified in Table 2-51.
(a)
If voltage readings do not agree
turn OFF ENGINE switch and re

-
place transducer (Para 13-10).  
Perform Steps (4) through (10)
below.
(b)
If voltage readings agree, replace
CTIS rear manifold (Para 13-9).
(4)   Turn OFF ENGINE switch.
(5)   Disconnect lead from back of
transducer.
(6)   Disconnect pressure transducer
connector from pressure transducer.
(7)   Remove pressure transducer from
variable air supply.
(8)   Install pressure transducer in rear
manifold (Para 13-10).
(9)   Install rear manifold cover (Para
13-9).
(10)   Put LHS in transit position.
VOLTAGE TEST
Remove all jewelry such as rings, dog tags, bracelets, etc.  If jewelry or tools contact positive electrical
circuits, a direct short may result.  Damage to equipment, injury or death to personnel may occur.
Wear safety goggles when performing leakage tests on valves.  Failure to do so may result in serious
eye injury due to high pressure air.
NOTE
All connectors must be connected to manifold
and transducer to perform this test.
PSI
kPa
Volts
(Plus/Minus 0.2 volts)
75
517-
3.5
70
482-
3.3
60
413-
2.9
50
345-
2.5
40
276-
2.0
30
207-
1.7
20
138-
1.3