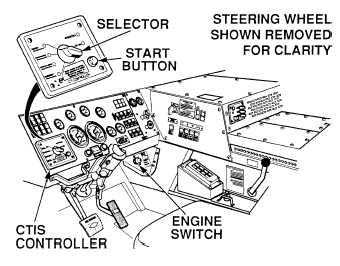 TM 9-2320-364-20-3
2-2045
(1)   Start engine (TM 9-2320-364-10).
(2)   Turn CTIS selector to CROSS
COUNTRY position.
(3)   Press CTIS START button.
(4)   Operate truck above 40 mph
(64 km/h) and verify if CTIS
automatically switches to HIGHWAY
setting.
(a)   If CTIS does not automatically
switch to HIGHWAY setting, fault
not corrected.  Turn OFF ENGINE
switch and notify Supervisor.
(b)   If CTIS automatically switches to
HIGHWAY setting, fault has been
corrected.
(5)   Turn OFF ENGINE switch.
VERIFY REPAIR