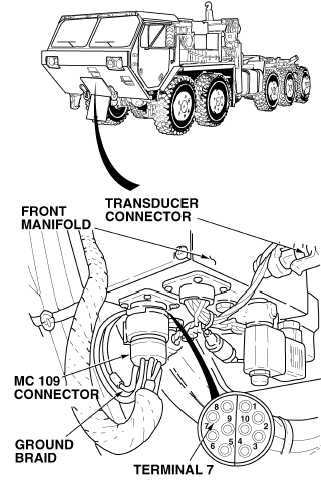 TM 9-2320-364-20-3
2-2079
(1)   Connect positive (+) multimeter lead
(with long probe installed) on terminal
7 at front manifold wire harness.
(2)   Connect negative (–) multimeter
lead to a known good ground.
(3)   Turn ON ENGINE switch.
(4)   As assistant pushes CTIS START
button.
(a)   If there is no voltage present, re-
place front manifold (Para 13-8).
(b)   If there is voltage, Fault is not
corrected.  Notify Supervisor.
(5)   Turn OFF ENGINE switch.
(6)   Close front access cover
(TM 9-2320-364-10).
VOLTAGE TEST
Remove all jewelry such as rings, dog tags, bracelets, etc.  If jewelry or tools contact positive electrical circuits,
a direct short may result.  Damage to equipment, injury or death to personnel may occur.
NOTE
All connectors must be fully plugged in to
perform this test.