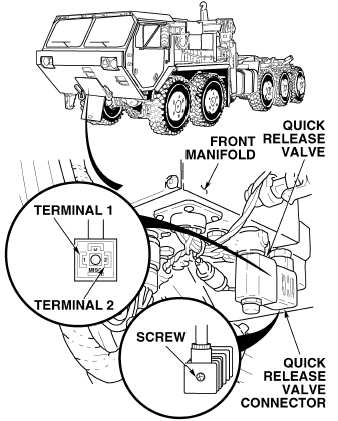 TM 9-2320-364-20-3
2-2085
(1)   Loosen screw and disconnect quick
release valve connector.
(2)   Connect positive (+) multimeter lead to
quick release valve connector, terminal
2.
(3)   Connect negative (–) multimeter lead to
front manifold ground braid.
(4)   Turn ON ENGINE switch
(TM 9-2320-364-10).
(5)   Assistant pushes CTIS START button.
(a)   If 22 to 28 vdc are not present, turn
OFF ENGINE switch and replace
front manifold (Para 13-8).
(b)   If 22 to 28 vdc are present, go to
Step 21 of this Fault.
VOLTAGE TEST
Remove all jewelry such as rings, dog tags, bracelets, etc.  If jewelry or tools contact positive electrical
circuits, a direct short may result.  Damage to equipment, injury or death to personnel may occur.