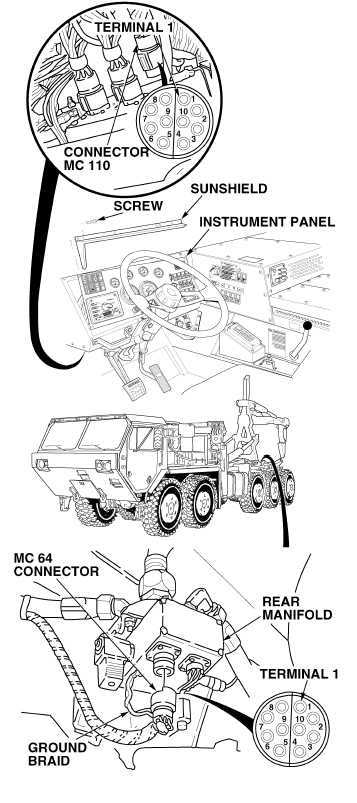 TM 9-2320-364-20-3
2-2107
(1)   Disconnect connector MC 64 from CTIS
rear manifold.
(2)   Disconnect rear manifold harness
connector MC 110 from back of CTIS
controller.
(3)   Set multimeter select switch to ohms.
(4)   Connect jumperwire between wire 1072
on CTIS controller connector MC 110,
terminal 1 and a known good ground.
(5)   Is there continuity between connector
MC 64, terminal 1 and rear manifold
ground braid?
(a)   If there is no continuity, repair wire
1072 (see schematic Fig 2-48) or
notify DS Maintenance and
performs Steps (6) through (9)
below.
(b)   If there is continuity, wire 1072 is
OK.
(6)   Check continuity of remaining wires and
terminals using Steps (4) and (5) above.
The wires and corresponding terminals
to be checked are listed below (see
schematic Fig 2-48).
1073(2)
1070(6)
1068(9)
1076(3)
1066(7)
1074(10)
1071(4)
Shield(8)
1067 to ground (5) (MC64 only)
(7)   Remove jumperwire.
(8)   Connect connector MC 110 to back of
CTIS controller.
(9)   Install instrument panel, sunshield and
ten screws.
CONTINUITY TEST
NOTE
Terminal (5) at MC110 is plugged and does not
connect to Terminal (5) at MC64.