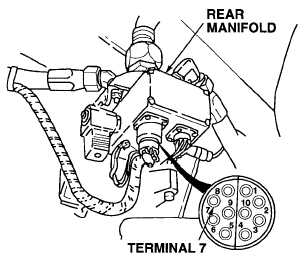 TM 9-2320-364-20-3
2-2135
(1)   Connect positive (+) multimeter lead
(with long probe installed) on terminal
7 at rear manifold wire harness (MC 64).
(2)   Connect negative (–) multimeter lead
to a known good ground.
(3)   Turn ON ENGINE switch.
(4)   Assistant pushes CTIS START button.
(a)   If there is no voltage present,
replace rear manifold (Para 13-9).
(b)   If there is voltage, Fault is not
corrected.  Notify Supervisor.
(5)   Turn OFF ENGINE switch.
VOLTAGE TEST
Remove all jewelry such as rings, dog tags, bracelets, etc.  If jewelry or tools contact positive electrical
circuits, a direct short may result.  Damage to equipment, injury or death to personnel may occur.
NOTE
All connectors must be fully plugged in to perform
this test.