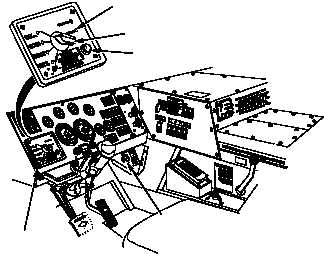 TM 9-2320-364-20-3
2-2169
ENGINE
SWITCH
SELECTOR
START
BUTTON
STEERING
WHEEL
SHOWN
REMOVED
FOR CLARITY
CTIS
CONTROLLER
CTIS LOW AIR LIGHT
(1)   Start engine (TM 9-2320-364-10).
(2)   Build up air pressure to 120 psi

5 (830
kPa

 

34).
(3)   Observe CTIS LOW AIR light.
(a)   If CTIS LOW AIR light is flashing,
go to Fault 13 or 14.
(b)   If CTIS LOW AIR light is on, go
to Step 2 of this Fault.
VISUAL INSPECTION
NOTE
The CTIS initially and periodically
checks for system air leaks.  The CTIS
will display a flashing LOW AIR light
and shut off if 6 psi cannot be
maintained by the CTIS system.  The
manifold will click during this check for
approximately 1-1/2 minutes.
CTIS air lines are pressurized only
when CTIS is in inflate, deflate, or test
cycles.
Tests 1 thru 5 can be made
consecutively while the CTIS system is
in the inflate cycle.
Normal inflation time from
EMERGENCY to HIGHWAY setting is
approximately 12 minutes at high idle.
Excess inflation times, sometimes
accompanied by a flashing LOW AIR
light is normal if engine is at idle rpm
and/or air operated accessories are
being used.