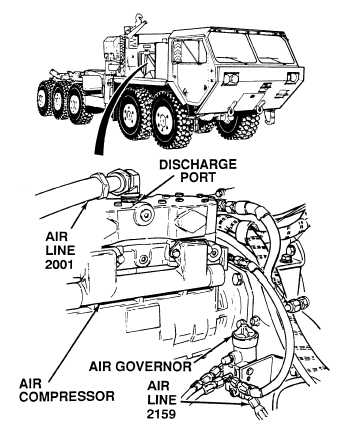 TM 9-2320-364-20-3
2-2193
Allow engine to cool before performing troubleshooting maintenance.  If necessary use insulated pads
and gloves.  Hot engine components will burn and cause injury to personnel.
Wear safety goggles when performing tests on valves.  Failure to do so may result in serious eye injury
due to high pressure air.
(1)   Drain air system (TM 9-2320-364-10).
(2)   Disconnect governor control
air line 2159 from air governor.
(3)   Disconnect air compressor discharge
air line 2001 from air compressor.
(4)   While assistant starts engine,
listen to air compressor discharge
port.
(a)   If little or no air flows from
discharge port, perform Steps (5)
through (7) below, and notify DS
maintenance.
(b)   If air flows freely from discharge
port, air compressor is OK.
(5)   Turn OFF ENGINE switch.
(6)   Install air compressor discharge
air line 2001 on air compressor.
(7)   Install governor control air line 2159
on air governor.
AUDIBLE INSPECTION