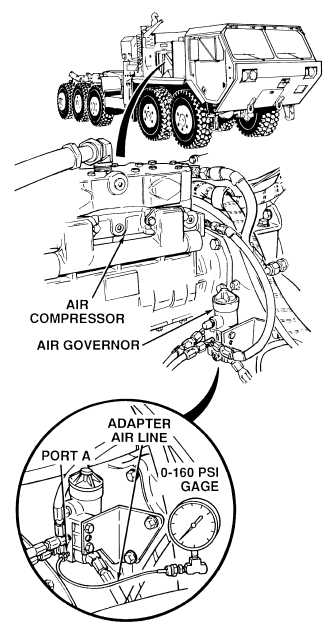 TM 9-2320-364-20-3
2-2199
(1)   Remove plug from air governor port A.
(2)   Connect 0 to 160 psi (0 to 1103 kPa)
gage and adapter hose to port A.
(3)   While assistant starts engine, check for
0 psi (0 kPa) on pressure gage
(TM 9-2320-364-10).
(a)   If 0 psi (0 kPa) is not present,
perform Steps (4) through (7) below
and replace air governor
(Para 12-41).
(b)   If 0 psi (0 kPa) is present, air
governor is OK.
(4)   Turn OFF ENGINE switch.
(5)   Remove pressure gage adapter hose
from port A.
(6)   Apply sealing compound to threads of
plug.
(7)   Install plug in port A.
PRESSURE TEST
Adhesive, solvents, and sealing compounds can burn easily, can give off harmful vapors, and are harmful
to skin and clothing.  To avoid injury or death, keep away from open fire and use in well-ventilated area.  
If adhesive, solvent, or sealing compound gets on skin or clothing wash immediately with soap and water.
Wear safety goggles when performing tests on valves.  Failure to do so may result in serious eye inury
due to high pressure air.