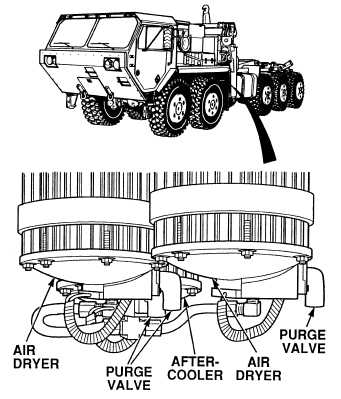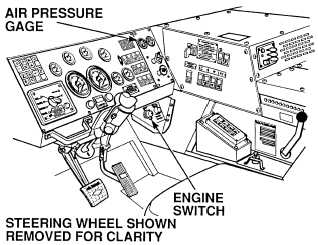 TM 9-2320-364-20-3
2-2201
(1)   Start engine (TM 9-2320-364-10).
(2)   Run at idle until air pressure gage reads
125

4 psi (861

28 kPa).
(3)   Turn OFF ENGINE switch.
(4)   Check purge valves on air dryers and
after cooler for air leaks or damage.
(a)   If purge valves are leaking or
damaged, replace valves (Para
12-21 and 12-22).
(b)   If purge valves are not leaking
or damaged, valves are OK.
VISUAL/AUDIBLE INSPECTION
Wear safety goggles when performing leakage tests on valves.  Failure to do so may result in serious eye injury
due to high pressure air.