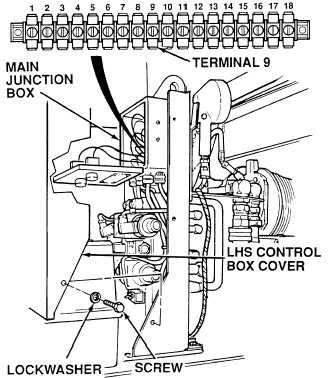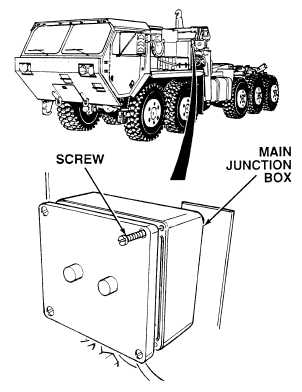 TM 9-2320-364-20-3
2-2265
(1)   Remove four screws, lockwashers
and LHS control box cover.  Discard
lockwashers.
(2)   Loosen four screws to open main
junction box.
(3)   Set multimeter select switch to
volts dc.
(4)   Connect positive (+) multimeter lead
at main junction box terminal 9.
(5)   Connect negative (–) multimeter lead
to a known good ground.
(6)   Turn ON ENGINE switch
(TM 9-2320-364-10).
(a)   If there are not 22 to 28 vdc
present, perform Step (7) below
and go to Step 1 of Fault 4 of
this chapter.
(b)   If there are 22 to 28 vdc present,
perform Step (7) below.
(7)   Turn OFF ENGINE switch.
VOLTAGE TEST
Remove all jewelry such as rings, dog tags, bracelets, etc.  If jewelry or tools contact positive electrical
circuits, a direct short may result.  Damage to equipment, injury or death to personnel may occur.
When opening the main junction box, do
not pull or allow front of junction box to
hang by the wire connections. Failure to
comply will damage the wire connections.
NOTE
Only remove center screw on engine side
of LHS control box cover.