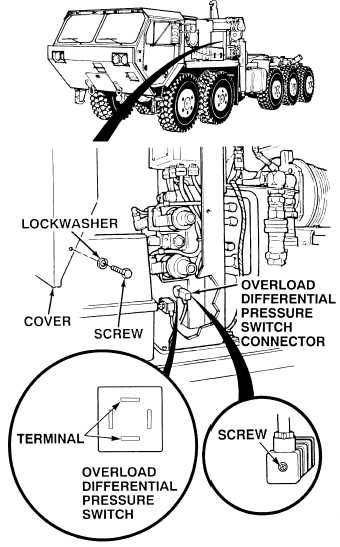 TM 9-2320-364-20-3
2-2301
(1)   Remove four screws, lockwashers and
LHS control box cover.  Discard
lockwashers.
(2)   Loosen screw and disconnect harness
connector from overload differential
pressure switch.
(3)   Set multimeter select switch to ohms.
(4)   Is there continuity measured across
overload differential pressure switch
terminals?
(a)   If there is continuity, overload
differential pressure switch is
faulty.  Notify DS maintenance.
(b)   If there is no continuity, switch is
OK.  Replace LHS control
assembly (Para 7-40).  Verify
repair, go to Step 2 of this fault.
(5)   Connect harness connector to
overload differential pressure switch
and tighten screw, coat head of screw
with adhesive.
(6)   Install LHS control box cover, four
lockwashers and screws.
CONTINUITY TEST
Adhesive causes immediate bonding on contact
with eyes, skin, or clothing and also gives off
harmful vapors.  Wear protective goggles and use
in well-ventilated area.  If adhesive gets in eyes,
try to keep eyes open; flush eyes with water for
15 minutes and get immediate medical attention.
NOTE
Only remove center screw on engine side of
LHS control box cover.