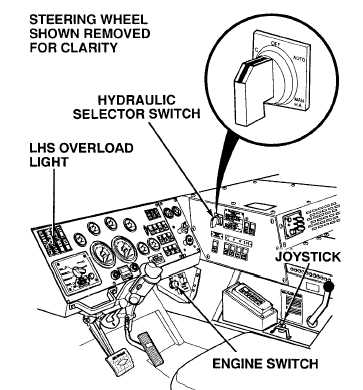 TM 9-2320-364-20-3
2-2303
(1)   Start engine (TM 9-2320-364-10).
(2)   Set hydraulic selector switch to
MAN HA position.
(3)   While observing LHS overload
light, put joystick in LOAD position for
five seconds and release.
(a)   If LHS overload light operates
and fails to go out, fault is not
corrected.  Perform Step (4)
below and notify DS Maintenance.
(b)   If LHS overload light operates and
goes out, fault has been
corrected.
(4)   Turn OFF ENGINE switch.
VERIFY REPAIR
Keep clear of equipment when equipment is being raised or lowered.  Equipment may fall and cause
serious injury or death to personnel.