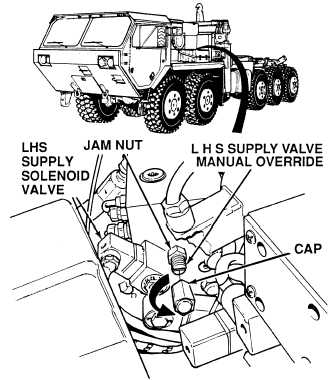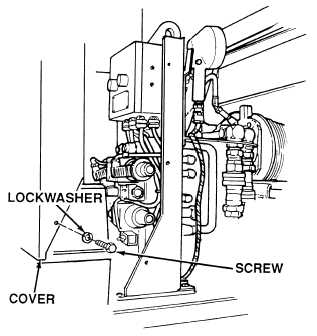 TM 9-2320-364-20-3
2-2343
(1)   Remove four screws and
lockwashers and LHS control box
cover.
(2)   Remove cap from LHS supply sole-
noid valve manual override and
loosen jamnut.
(3)   Open manual override by turning
set screw counter clockwise no
more than three turns.
(4)   Turn ON ENGINE switch
(TM 9-2320-364-10).
(5)   Start engine.
(6)   Set hydraulic selector switch to
MAN HA position.
(7)   Operate LHS.
(a)   If LHS does not operate,
perform Steps (8) through
(11) below and go to Step 3 of
this Fault.
(b)   If LHS operates, perform
Steps (8) through (11) below
and go to step 10 of this Fault.
(8)   Set hydraulic selector switch to
OFF position.
(9)   Turn OFF ENGINE switch.
(10)   Close LHS supply solenoid valve
manual override and tighten
jam nut.
(11)   Install cap on LHS supply solenoid
valve manual override, and tighten
securely.
MANUAL OVERRIDE TEST
Keep clear of equipment when equipment is being
raised or lowered.  Equipment may fall and cause
serious injury or death to personnel.
NOTE
Only remove center screw on engine side of
LHS control box cover.