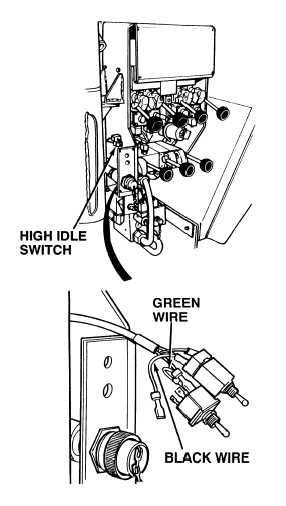 TM 9-2320-364-20-3
2-2803
(1)   Remove black wire from HIGH IDLE
switch.
(2)   Is there continuity on HIGH IDLE
switch between green wire and black
wire while holding switch in LATCH
position?
(a)   If there is no continuity, replace
HIGH IDLE switch (Para 7-36).
(b)   If there is continuity, perform Step
(3) below and go to Step 16 of this
Fault.
(3)   Connect black wire to HIGH IDLE
switch.
CONTINUITY TEST
Remove all jewelry such as rings, dog tags, bracelets, etc.  If jewelry or tools contact positive electrical
circuits, a direct short may result.  Damage to equipment, injury or death to personnel may occur.
Terminals of switch are being tested, not the
wires.
NOTE