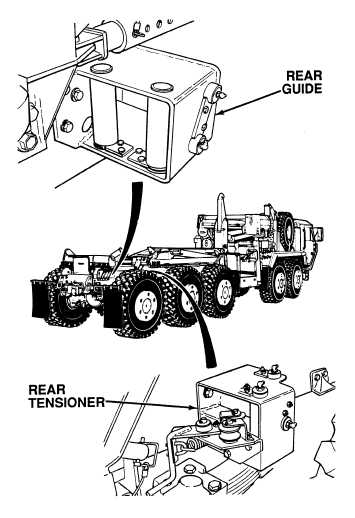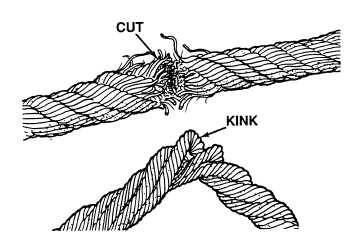 TM 9-2320-364-20-3
2-2843
Inspect rear cable tensioner and
guide for damage.
(1)   If tension guide or guide is
damaged or will not roll freely,
repair tension guide (Para 18-15)
or replace guide (Para 18-16).
(2)   If tension guide and guide are not
damaged and roll freely, go to
Step 3 of this Fault.
VISUAL INSPECTION
Wire cable assembly can become frayed or
contain broken wires.  Wear heavy leather-
palmed work gloves when handling wire
cable assembly.  Frayed or broken cable
can and cause injury to personnel.
Never let moving wire cable assembly slide
through hands, even when wearing gloves.  
A broken wire could cut through glove
and cause injury to personnel.
Inspect cable for severe kinks or
fraying causing it to bind with winch,
cable guide, tensioner or truck where
cable is routed.
(1)   If cable is severely kinked to the
point that it will not roll up
properly on winch cable drum,
replace cable (Para 18-17).
(2)   If cable has more than three
broken wires per inch on same
strand or more than six broken
wires on all strands in a one-inch
running length of cable, replace
cable (Para 18-17).  The maximum
number of broken wires must not
occur in any two consecutive
inches of cable; that is, if six wires
are broken in one inch of cable,
none would be allowed in the next
consecutive inch.
(3)   If cable is not severely kinked or
frayed, cable is OK.
VISUAL INSPECTION