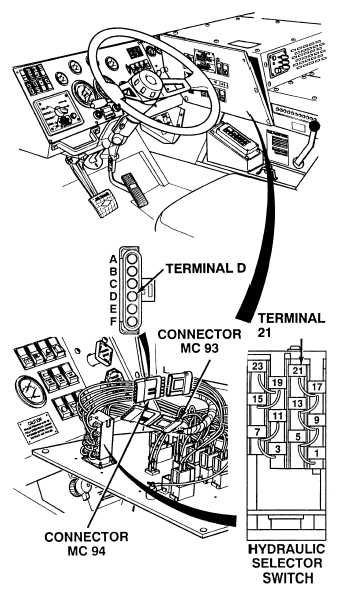 TM 9-2320-364-20-3
2-2869
(1)   Disconnect connector MC94 from
switch connector.
(2)   Is there continuity on wire 1488
between switch connector MC94,
terminal D and hydraulic selector
switch, terminal 21?
(a)   If there is no continuity, repair
wire 1488 (see schematic
Fig 2-52) or notify DS
Maintenance.  Perform Step (2)
below.
(b)   If there is continuity, wire 1488
is OK.
(3)   Connect connectors MC94 and MC93
to hydraulic selector switch
connectors.
CONTINUITY TEST
Remove all jewelry such as rings, dog tags, bracelets, etc.  If jewelry or tools contact positive electrical
circuits, a direct short may result.  Damage to equipment, injury or death to personnel may occur.