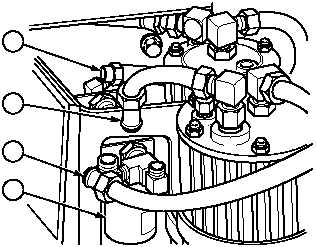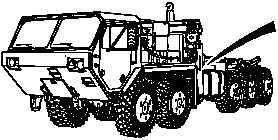 TM 9-2320-364-20-4
12-99
Materials/Parts
Cloth, Cleaning (Item 31, Appendix C)
Sealing Compound (Item 72, Appendix C)
Tags, Identification (Item 88, Appendix C)
Lockwasher (2) (Item 186, Appendix F)
This task covers:
a.  Removal
b.   Installation
c.  Follow-On Maintenance
INITIAL SETUP
Equipment Condition
Engine OFF, (TM 9-2320-364-10)
Wheels chocked, (TM 9-2320-364-10)
Left mud flap removed, (Para 17-36)
Air dryer guard removed (if equipped),
(Para 12-19)
Air System drained, (TM 9-2320-364-10)
Tools and Special Tools
Tool Kit, General Mechanic's:  Automotive
(Item 74, Appendix G)
12-23.  COALESCING FILTER ASSEMBLY REPLACEMENT.
a.
Removal.
NOTE
Tag and mark air lines prior to removal.
(1)
Disconnect air lines 2034 (1), 2035 (2), and 2036 (3) from coalescing filter assembly (4).
3
4
2
1