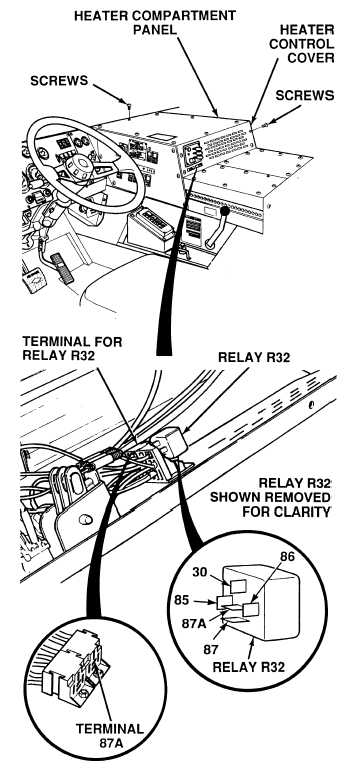 TM 9-2320-364-20-4
2-3045
(1)   Remove eight screws and heater
compartment panel.
(2)   Remove four screws and pull heater
control cover out enough to access
water pump relays.
(3)   Connect positive (+) multimeter lead
to relay R32 terminal, terminal 87A.
(4)   Connect negative (–) multimeter lead
to a known good ground.
(a)   If 22 to 28 vdc are not present,
repair wire 1431 (see schematic
Fig 2-74) or notify DS
Maintenance.
(b)   If 22 to 28 vdc are present, wire
1431 is OK.  Go to Step 4 of
this Fault.
VOLTAGE TEST
Remove all jewelry such as rings, dog tags, bracelets, etc.  If jewelry or tools contact positive electrical
circuits, a direct short may result.  Damage to equipment, injury or death to personnel may occur.
Relay test must be performed with relay
partially removed.
NOTE