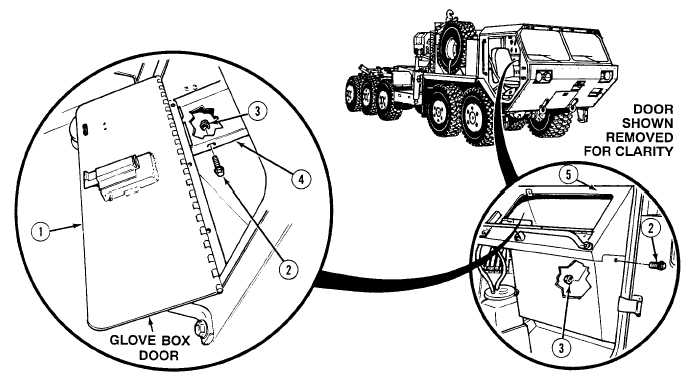 TM 9-2320-364-20-4
12-117
Materials/Parts
Sealing Compound (Item 72, Appendix C)
Tags, Identification (Item 88, Appendix C)
Locknut (3) (Item 110, Appendix F)
This task covers:
a.  Removal
b.   Installation
c.  Follow-On Maintenance
INITIAL SETUP
Equipment Condition
Engine OFF, (TM 9-2320-364-10)
Wheels chocked, (TM 9-2320-364-10)
Air system drained, (TM9-2320-364-10)
Tools and Special Tools
Tool Kit, General Mechanic's:  Automotive
(Item 74, Appendix G)
12-26.  WINDSHIELD WASHER CAB AIR REGULATOR REPLACEMENT.
Materials/Parts - Continued
Locknut (Item 140, Appendix F)
Lockwasher (Item 168, Appendix F)
a.
Removal.
NOTE
Truck may or may not have a windshield washer cab air regulator.
(1)
Open glove box door (1).
(2)
Remove three screws (2), locknuts (3) and plate (4) from dash (5).  Discard locknuts.