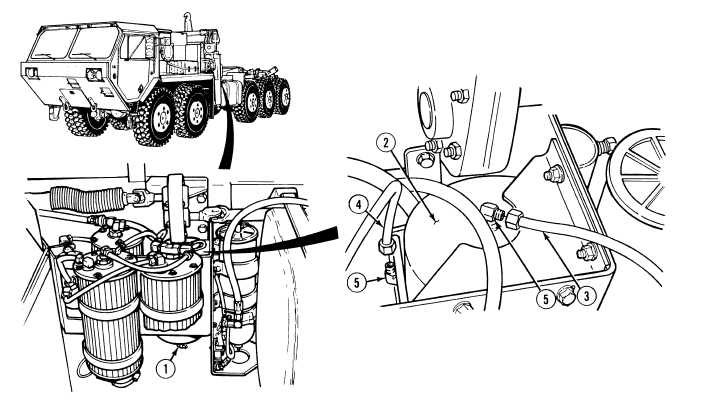 TM 9-2320-364-20-4
12-164
Materials/Parts
Sealing Compound (Item 77, Appendix C)
Lockwasher (2) (Item 168, Appendix F)
This task covers:
a.  Removal
b.   Installation
c.  Follow-On Maintenance
INITIAL SETUP
Personnel Required
Two
Equipment Condition
Engine OFF, (TM 9-2320-364-10)
Wheels chocked, (TM 9-2320-364-10)
Air dryer guard removed (if equipped),
(Para 12-19)
Tools and Special Tools
Tool Kit, General Mechanic's:  Automotive
(Item 74, Appendix G)
12-35.  AIR DRYER RESERVOIR REPLACEMENT.
a.
Removal.
(1)
Open drain valve (1) and drain air from air reservoir (2).
(2)
Remove air lines 2031 (3) and 2030 (4) from two elbows (5).