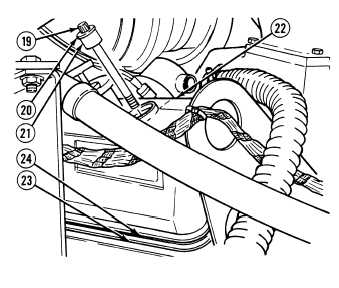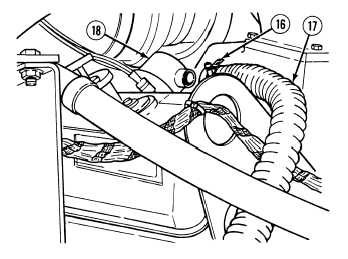 TM 9-2320-364-20-4
3-10     
3-4.  LEFT ROCKER COVER AND GASKET REPLACEMENT (CONT).
(8)
Press stem side of gasket (24) in groove at
four corners of rocker cover (22).
NOTE
When gasket is completely
installed in groove, it should not
fall out.
(9)
Press remainder of gasket (24) into place in
groove.  Ensure gasket is fully seated.
(10)
Lubricate flat surface of gasket (24) and
cylinder head (23) with light coating of clean
engine oil.
(11)
Install rocker cover (22) on cylinder
head (23).
NOTE
Screws, washers and resilient
mounts are installed as one
assembly in Step (12).
(12)
Install two screws (19), washers (20) and
resilient mounts (21) in rocker cover (22).
Tighten screws to 15 to 20 lb-ft (20 to 27 N.
(13)
Install hose clamp (16) and breather
hose (17) on breather (18).