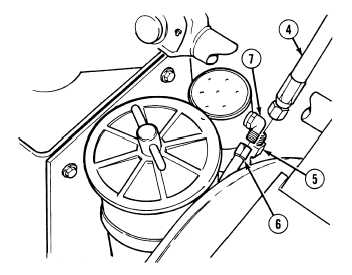 TM 9-2320-364-20-4
4-3
a.
Removal.
Fuel is very flammable and can explode easily.  To avoid serious injury or death, keep fuel away
from open fire and keep fire extinguisher within easy reach when working with fuel.  Do not
work on fuel system when engine is hot.  Fuel can be ignited by hot engine.
NOTE
·
Remove cable ties as required.
·
Tag and mark wires and hoses prior to removal.
·
Note location and position of elbows and tees prior to removal.
·
Connectors are removed by gently prying on tab and pulling connector apart.
(1)
Position drain pan under fuel/water separator (1) to catch excess fuel.
(2)
Disconnect fuel pump connector 108 (2) from wire harness connector (3).
(3)
Remove hose 2919 (4) from elbow (5).
(4)
Remove hose 2920 (6) from elbow (7).