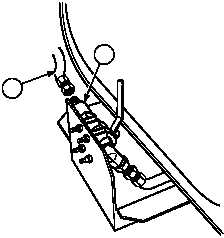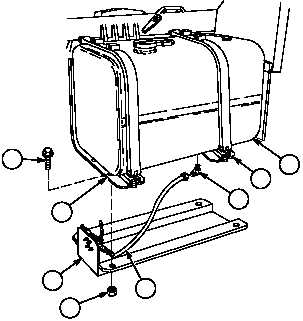 TM 9-2320-364-20-4
4-60     
4-9.  AUXILIARY FUEL TANK AND BRACKETS REPLACEMENT (CONT).
Adhesives, solvents, and sealing
compounds can burn easily, can
give off harmful vapors, and are
harmful to skin and clothing.  To
avoid injury or death, keep away
from open fire and use in
well-ventilated area.  If adhesive,
solvent, or sealing compound gets
on skin or clothing, wash
immediately with soap and water.
Do not coat last two threads of
fittings with sealing compound.
Sealing compound will
contaminate fuel system and
cause damage to equipment.
(38)
Apply sealing compound to threads of
reducer (13).
NOTE
Install reducer as noted prior to
removal.
(39)
Install reducer (13) in fuel tank (2).
(40)
Attach hose 2320 (12) to reducer (13).
(41)
Install fuel tank guard (10), six screws (9)
and locknuts (8) to fuel tank brackets (11).
(42)
Connect hose 2320 (6) to safety valve (7).
6
7
8
9
10
11
13
12
11
2