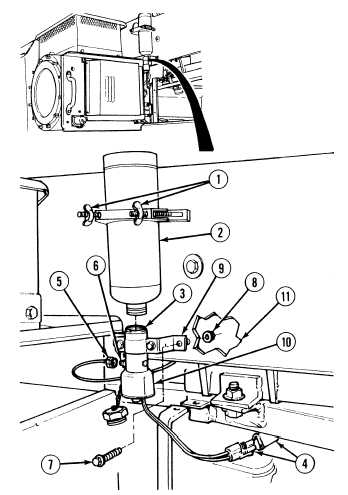 TM 9-2320-364-20-4
4-87
Materials/Parts
Locknut (2) (Item 133, Appendix F)
This task covers:
a.  Removal
b.   Installation
c.  Follow-On Maintenance
INITIAL SETUP
Equipment Condition
Engine OFF, (TM 9-2320-364-10)
Wheels chocked, (TM 9-2320-364-10)
Left side noise panel removed, (Para 17-28)
Tools and Special Tools
Tool Kit, General Mechanic's:  Automotive
(Item 74, Appendix G)
4-18.  ETHER START AID ASSEMBLY REPLACEMENT.
a.
Removal.
Starting fluid is toxic and highly
flammable.  Container is
pressurized.  NEVER heat
container and NEVER discharge
starting fluid in confined areas
or near open flame.  Severe
injury to personnel may result.
NOTE
Connectors are removed by
gently prying on tab and pulling
connector apart.
(1)
Loosen two wingnuts (1) and remove ether
supply cylinder (2) by turning
counterclockwise from solenoid valve (3).
(2)
Disconnect MC23 connector (4).
(3)
Remove ether tube (5) from fitting (6).
(4)
Remove two screws (7) and locknuts (8)
from bracket (9).  Discard locknuts.
(5)
Remove ether starting aid (10) from
truck (11).