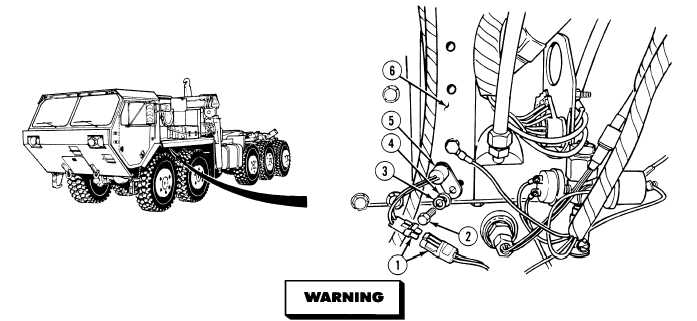 TM 9-2320-364-20-4
4-92     
Materials/Parts
Corrosion Preventive Compound
(Item 34, Appendix C)
Lockwasher (Item 174, Appendix F)
This task covers:
a.  Removal
b.   Installation
c.  Follow-On Maintenance
INITIAL SETUP
Equipment Condition
Engine OFF, (TM 9-2320-364-10)
Wheels chocked, (TM 9-2320-364-10)
Left front fender skirt removed, (Para 17-34)
Tools and Special Tools
Tool Kit, General Mechanic's:  Automotive
(Item 74, Appendix G)
Goggles, Industrial (Item 30, Appendix G)
4-20.  ETHER START AID THERMOSTAT REPLACEMENT.
Allow engine to cool before performing this procedure or injury to personnel may result.
NOTE
Connectors are removed by gently prying on tab and pulling apart connectors.
(1)
Disconnect ether start aid thermostat MC56 connector (1).
(2)
Remove screw (2), lockwasher (3), washer (4) and thermostat (5) from engine block (6).  Discard
lockwasher.