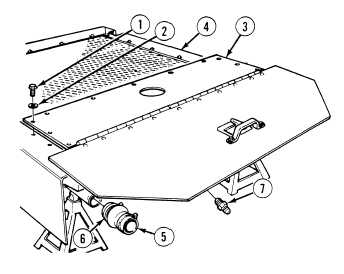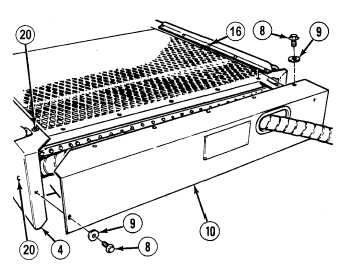 TM 9-2320-364-20-4
6-36     
6-5.  RADIATOR REPLACEMENT (CONT).
(38)
Position back panel (10) on cooling
assembly (4) with seven washers (9) and
screws (8).
(39)
Tighten screws (8), (16) and (20) on
cooling assembly (4).
Adhesives, solvents, and sealing
compunds can burn easily, can
give off harmful vapors, and are
harmful to skin and clothing.  To
avoid injury or death, keep away
from open fire and use in well-
ventilated area.  If adhesive,
solvent, or sealing compound
gets on skin or clothing, wash
immediately with soap and water.
(40)
Apply sealing compound on threads of
fitting (7).
(41)
Install fitting (7) in cooling assembly (4).
(42)
Position two clamps (6) and two hump
hoses (5) on cooling assembly (4).
Engine cover assembly weighs 55 lbs (25 kg).  Use an assistant to help install engine cover
assembly or injury to personnel may result.
(43)
With the aid of an assistant, install engine cover assembly (3) on cooling assembly (4) with 11 washers
(2) and screws (1).
c.
Follow-On  Maintenance:
·
Install cooling system assembly, (Para 6-3).
END OF TASK