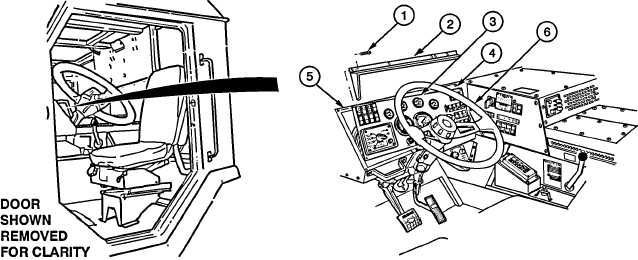 TM 9-2320-364-20-4
7-57
Materials/Parts
Cable Ties (Item 26, Appendix C)
Compound, Corrosion Preventive
(Item 34, Appendix C)
This task covers:
a.  Removal
b.   Installation
c.  Follow-On Maintenance
INITIAL SETUP
Equipment Condition
Engine OFF, (TM 9-2320-364-10)
Wheels chocked, (TM 9-2320-364-10)
Batteries disconnected, (Para 7-87)
Materials/Parts - Continued
Tags, Identification (Item 88, Appendix C)
Locknut (Item 106, Appendix F)
Tools and Special Tools
Tool Kit, General Mechanic's:  Automotive
(Item 74, Appendix G)
7-13.  INSTRUMENT PANEL REPLACEMENT.
a.
Removal.
NOTE
Remove cable ties as required.
(1)
Remove ten screws (1), and sunshield (2) from instrument panel (3), dash air panel (4) and
dash (5).
(2)
Pull top of instrument panel (3) towards steering wheel (6).