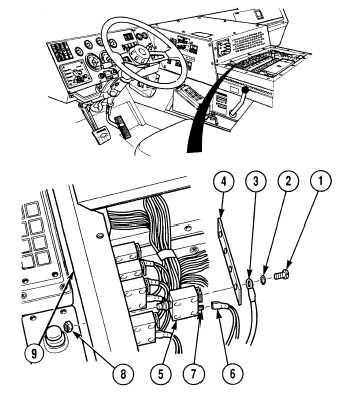 TM 9-2320-364-20-4
7-74     
Materials/Parts
Tags, Identification (Item 88, Appendix C)
This task covers:
a.  Removal
b.   Installation
c.  Follow-On Maintenance
INITIAL SETUP
Materials/Parts - Continued
Lockwasher (Item 188, Appendix F)
Equipment Condition
Engine OFF, (TM 9-2320-364-10)
Wheels chocked, (TM 9-2320-364-10)
Batteries disconnected, (Para 7-87)
Electronic Control Box (ECB) covers removed,
(Para 17-22)
7-16.  CIRCUIT BREAKER REPLACEMENT.
Tools and Special Tools
Tool Kit, Electrical (Item 73, Appendix G)
Tool Kit, General Mechanic's:  Automotive
(Item 74, Appendix G)
Torque Wrench (0 to 60 N.m)
(Item 98, Appendix G)
a.
Removal.
NOTE
·
All circuit breakers are
removed the same way.
Work light circuit breaker
shown.
·
Where bus bar is used, bus
bar must be removed from
rear of all circuit breakers
that are attached to bus bar.
·
Refer to Figure 7-1 Circuit
Breaker Wire Chart for
location of circuit breakers.
·
Tag and mark wires prior to
removal.
(1)
Remove screw (1), lockwasher (2), wire
1176 (3), and bus bar (4) from rear of circuit
breaker CB4 (5).  Discard lockwasher.
(2)
Disconnect wire 1292/1040 (6) from
terminal (7).
(3)
Remove nut (8) from face of circuit breaker  CB4 (5).
(4)
Remove circuit breaker CB4 (5) from ECB (9).