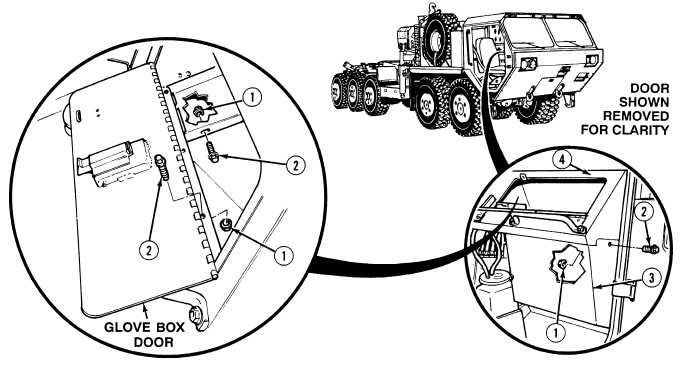 TM 9-2320-364-20-4
7-160     
Materials/Parts - Continued
Locknut (6) (Item 106, Appendix F)
Lockwasher (2) (Item 168, Appendix F)
Packing, Preformed (Item 223, Appendix F)
Materials/Parts
Adhesive, Sealant (Item 14, Appendix C)
Silicone Compound, Anti-Corrosion
(Item 85, Appendix C)
Tag, Identification (Item 88, Appendix C)
Gasket (Item 60, Appendix F)
This task covers:
a.  Removal
c.   Cleaning/Inspection
e.  Installation
b.  Disassembly
d.   Assembly
f.   Follow-on Maintenance
INITIAL SETUP
Personnel Required
Two
Tools and Special Tools
Tool Kit, General Mechanic's:  Automotive
(Item 74, Appendix G)
Goggles, Industrial (Item 30, Appendix G)
7-46.  FRONT COMPOSITE LIGHT REPAIR.
Equipment Condition
Engine OFF, (TM 9-2320-364-10)
Wheels chocked, (TM 9-2320-364-10)
Batteries disconnected, (Para 7-87)
a.
Removal.
NOTE
Perform Step (1) for right side only.
(1)
Open glove box door and remove six locknuts (1), screws (2) and glove box (3) from right side of dash (4).